Shanghai Haozhuang Instrument Co., Ltd. developed the LNB brand constant temperature mixer, which is energy-saving and environmentally friendly, leading the country. Professional manufacturing is more secure and affordable. The company has first-class technical staff and a good team of technicians, with advanced technology and strong development strength. Since the establishment of the company, products and services have been recognized by customers and have a good reputation. The company upholds "integrity. Professionalism. Innovation. Growth "The business philosophy provides elaborate service to customers.
Introduction of constant temperature mixer
The constant temperature mixer (thermostatic oscillator, constant temperature incubator, oscillating constant temperature metal bath) uses a DC brushless motor and micro-processing technology combined with intelligent PID control to quickly maintain stability after reaching the target temperature, which can save waiting time The formation combines the two functions of constant temperature and oscillation perfectly, which greatly shortens the time of experimental operation and improves the efficiency of the staff. It is an ideal automated tool for the reaction process of sample incubation, catalysis, mixing and storage.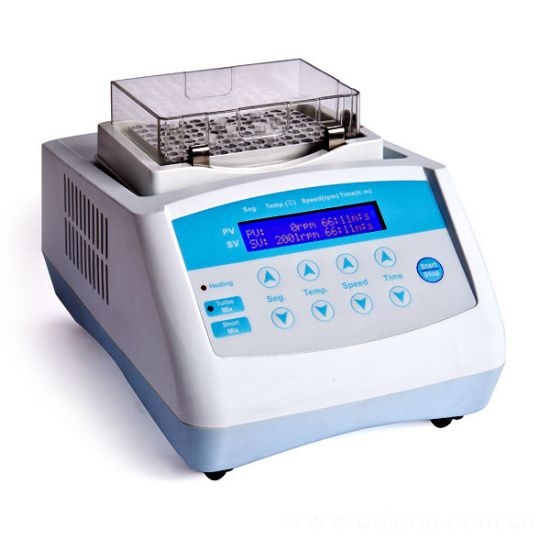 The constant temperature mixer has multi-purpose functions such as heating and shaking. Can meet the needs of different users.
Technical advantages of constant temperature mixer
1. LED liquid crystal display, digital display of various parameters, intelligent PID adjustment, precise temperature adjustment of the sample tube
2. With power failure recovery function, the instrument can automatically resume operation according to the original setting procedure after power failure recovery
3. Microprocessor control to ensure superior temperature stability and uniformity, accurate oscillation speed, small fluctuations, over temperature alarm
4. With timer function, the cultivation time can be set arbitrarily within the range of 0 ~ 99h59min
5. Adopt metal module, with large heat capacity, small thermal resistance, even heating, convenient module replacement, easy to clean and disinfect
6. Temperature calibration function, short oscillation jog function, over-temperature protection function, sound alarm signal when the program is running
7. Quiet and stable DC brushless motor drive, long life, maintenance-free
8. Multiple safety protection functions, safe and reliable, in line with CE safety standards
Adopt high-quality refrigeration compressor, temperature sensor and stirring motor, precise and stable microcomputer control system, precise temperature control, excellent and stable performance. Free home delivery nationwide. The price is reasonable, the quality is three guarantees, life-long maintenance, to provide customers with fast, professional and high-quality systemized services, you are welcome to consult and buy!
We are specialized in plush toy since 1993. We are a very strong OEM&ODM team. Annually, there are more than 250 new items for our customer to select.Till now, there are more than 8500SKU.
We have a very strong OEM&ODM designing team. Annually, we will design more than 200 new items for our customer to select. Customized design is welcomed.
Here we provide one stop service from design patterning, sampling, manufacture and quality control. to ensure Safe, Excellent QUALITY & BEAUTIFUL products
Our toys are followed strictly international standards such as EN71 &ASTM963. We have passed BSCI, Sedex certificate.
Baby Height Chart,Height Chart,Animal Height Measure,Plush Cartoon Height Measure
Ningbo Dikai Imp&Exp Co., Ltd , https://www.longkaitoys.com